HDPE plastic ground protection mats and pathways
Event Flooring mat

Pedestrian walkways road mat
Ground Protection Track Mats

Access Road Mats Tracking Mats
HDPE Temporary Roadway panel
HDPE Access panel mats

ground protection solutions mat
Plastic grass protection mats

Event ground road mats
HDPE ground protection mats

Temporary Road Mat
HDPE plastic ground sheet

Plastic Road mat temporary road mat
Temporary Ground Mat HDPE road mat
plastic ground mat Construction road mat
HDPE ground mat Black ground road mat
Product Overview
HDPE plastic ground protection mats and pathways


Product description:
XINXING Ground protection mats both protect your expensive turf and provide access and traction over mud, sand, snow and other difficult surfaces. It can be sued to create temporary roadways for all types of vehicles and equipment or large work pads for drilling, administrative compounds, bone yards, temporary flooring, oil drilling rig mats and other industrial application. Ground protection mats are perfect for allowing access and gaining traction to construction sites for rubber tracked and typed vehicles from cars, vans, JCB, cranes, HGVs up to 80tons. Also they are ideal for ground protection and pedestrian foot paths over soft or sensitive ground, sand, mud, turf, marshy areas at any event. Our road mat, a superior alternative to plywood and steel, which will not warp, rot, crack, delaminate or absorb harmful chemicals.
Advantage of XINXING Ground protection mats :
Ground protection mats
is durable, light weight, and extremely strong. The mats are engineered to provide ground protection and access over soft surface and will provide a firm support base and traction for numerous activities.
*Creates an instant roadway over virtually any type of terrain (mud, sand, marshy, uneven or soft terrain).
* Protects valuable turf during landscaping projects.
* Superior alternative to plywood and fiberglass - will not warp , rot , crack or delaminate.
* Save times&labor getting vehicles and equipment traversed over difficult terrain.
*Avoid potential injuries to workers incurred while dislodging vehicles & equipment from excessive wear and damage due to operating on unstable ground conditions.
* Easily handled and laid by two men-no need for expensive crane wagons.
* Lay as two parallel tracks or a single roadway or others.
* Link together with metal connections.
* Easily cleaned due to less aggressive lug pattern.
* Extremely durable to withstand vehicle weights up to 80tons in static.
* Tested in extremes of hot and cold climates.
* Can be used hundreds of times.
Standard size and other information:
Series No.
Size (mm)

Thickness

with texture (mm)

Unit weight (kg)

Effective Surface Area

(sqm)

Load Capacity

(tons)

01
2000*1000*10
20
22.6
2.00
30
02
2440*1220*12.7
22.7
42
2.98
40
03
5900*2000*28
36
346
11.8
120
04
2900*1100*12.7
22.7
45
3.20
50
05
3000*1500*15
25
74
4.50
80
06
3000*2000*20
28
128
6.00
100
07
2400*1200*12.7
22.7
40.5
2.88
40
- Thickness: 12.7mm,15mm, 18mm, 20mm etc
- Cleat height: 5mm
- Color: Black/Dark Green (other colors available)
Pattern both sides OR smooth on one side.
Various sizes and thickness can be offered to suit your need.
b. The standard size link of another heavyt duty Ground Protection Mat access mat road way mat ; This mat want to Learn more
Series No.
Size (mm)

Thickness

with texture(mm)

Unit weight
(KGS)
Effective Surface Area
Load capacity (Tons)
MOQ (PCS)
H01
3000*2500*20
29
158
7.50
80
40
H02
3000*2500*25
34
195
7.50
100
30
H03
3000*2500*38
47
293
7.50
120
15
H04
4500*2500*38
48
351
9.00
120
15
Remarks:

- For Wheel and Tracked corresponds
- Standard color is black, others can be customized
- Suitable for heavy duty vehicle, engineering vehicle, muddy road, rough road and so on
Product surface pattern: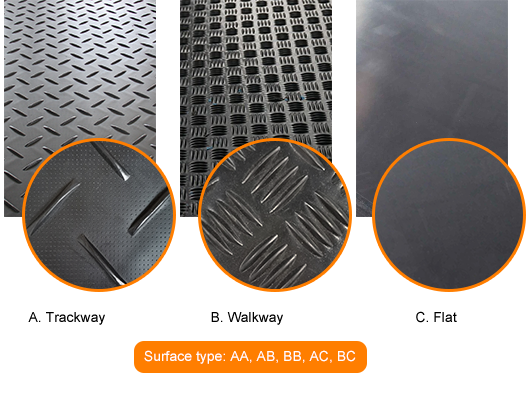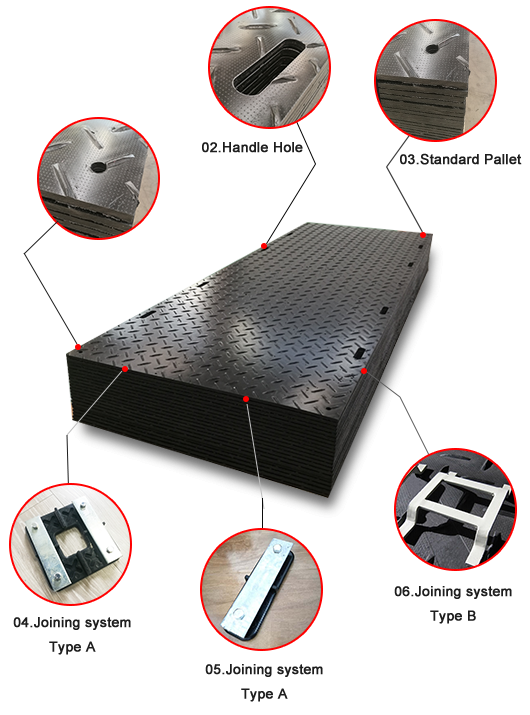 Applications Of XINXING HDPE protect mat

- Protect your turf and provide access nearly anywhere
- Temporary flooring- Stadium ground covering
- Outdoor Events/shows/festivals/stadium/wedding/Beach Access
- Building site access works
- Construction site, civil engineering and ground work industries
- Emergency access routes
- Golf course and sports field maintenance
- National Parks
- Landscaping
- Utilities and infrastructure maintenance
- Cemeteries
- Temporary roadways and airport&parking
- Military sites
- Caravan parks
- Heritage sites and eco friendly areas
- Safety road for pedestrian/vehicle/wheel chair
Related Products
Polyethylene Anti Slip UHMWPE Crane Outrigger Jack Pad Stabilizer Pad Crane Mats
Black Square Crane Outrigger Pads HDPE Plastic Crane Leg Support Pad
High Quality HDPE Plastic Truck Crane Outrigger Pads crane mats plastic crane outrigger jack pad
Ground Protection Mat
Temporary Road Mat
Construction Road Mat
Composite Rig Mat
Xinxing is the largest Group manufacturer of engineering plastics in China. Xinxing's main products include UHMWPE & HDPE sheets,  double colour HDPE sheets and parts, as well as custom machined plastic parts such as, UHMWPE Synthesis of ice, PE hockey shooting board, plastic ice rink barrier, ICE  RINK system, ICE HOKCEY RINK SYSTEM, FLOORBALL RINK, SOCCER REBOUNDER etc. Email: jade@sdxxhg.com
Product Name: HDPE plastic ground protection mats and pathways