nylon axle sleeve UHMW PE bearing UHMW Plastic Bushings
UHMW Plastic Bushings And Plain Bearings
Customized black wear-resisting UHMWPE part UHMWPE Machine Parts Abrasion Resistant White UHMW-PE Machine Part
China UHMWPE Machined Parts Wear Resistant Cushion Blocks - China Shaft Sleeve, Track Roller Bearing
UHMW Polyethylene Sheets Characters:

1.very flat on the surface
2.The thickness tolerance is +0.5 -0mm, some made according to your requirements.
3.The color is pure and any color can be made by us.
4.We can give you an accurate size of UHMW-PE Sheet with advanced machine.
5.Different shaped UHMW-PE Sheets also can be made by us like bending sheet.
6.According to different requirements with different application, special specifications can be customized, like anti-UV, fire-resistant,anti-static and with other characters.
Product Overview
nylon axle sleeve UHMW PE bearing UHMW Plastic Bushings
UHMWPE Machine Parts have the following agvantages:

1.Super high wear resistance
2.Super high impact resistance
3.Super precision
4.Good antistatic property
5.Good chemical corrosion resistance and so on...
UHMW Plastic Bushings And Plain Bearings with plastic bushing sleeve are machined from a UHMWPE sheet,UHMWPE rod. It can be customed to your specific size. UHMW Plastic Bushings And Plain Bearings show all of our UHMWPE Sheet's rugged characteristics, making it ideal for the application where sheet stock is not appropriate.
UHMWPE polyethylene exhibits a very well balanced property profile. It combines very good wear and abrasion resistance with outstanding impact strength, even at temperatures below -200 °C.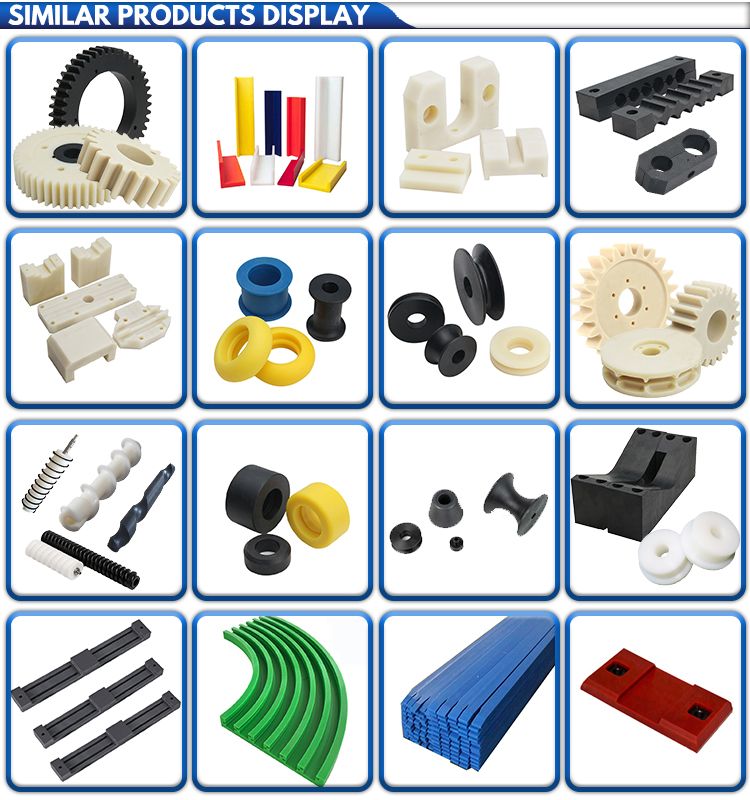 Other related products:
UHMWPE Liner (Xinxing-88 UHMWPE Sheet )
Ceramic filled UHMWPE Sheet
Glass filled UHMWPE Sheet
Others products
uhmwpe wear resistant sieve plate;uhmwpe slide plate;uhmwpe bush bearing;uhmwpe sleeve bearing;uhmwpe spacer/ring;uhmwpe transport roller;
uhmwpe tank lining;uhmwpe fender;uhmwpe buffer;uhmwpe lining;uhmwpe slide guide;uhmwpe slick plate;uhmwpe trailer slick plate;uhmwpe factory-made jigs
uhmwpe jig bases;uhmwpe snow chutes;uhmwpe hoppers and funnels;uhmwpe dump box liners;uhmwpe plastic slide plate;uhmwpe plastic slide guide
uhmwpe bush bearing;uhmwpe sleeve bearing;uhmwpe lining of silos, funnels and transport gutters
uhmwpe ring support;uhmwpe plastic flange;uhmwpe track roller;uhmpwe guide rollers;uhmwpe sliding bearing
uhmwpe sliding plate spreader;uhmwpe seals;uhmwpe trailer bunk slides;uhmwpe king starboard
uhmwpe wear strips;uhmwpe chain guides;uhmpwe golf ball cores;uhmwpe bearings;uhmwpe chute liners;uhmwpe conveying system components
uhmwpe belt rollers;uhmwpe pulleys;uhmpwe shaker screen bars;uhmw fabrication solutions;uhmwpe sliding gate top guide roller;uhmwpe drag conveyor flights;uhmwpe horizontal drag conveyors;uhmwpe drag flights and paddles
uhmwpe drag conveyor paddles;uhmw slide plate;uhmw skid plate;uhmwpe classifier shoes;uhmwpe grid hook screens;uhmwpe guide rails
uhmw skid plates;idler arms;playground equipment for uhmwpe;uhmw bushings;star wheels;idler sprockets;uhmw packaging machinery parts
uhmw hopper liners;uhmwpe excavator tracks;uhmwpe bumpers;uhmwpe truck bed liners;uhmwpe pile guards;uhmwpe marine dock fenders
uhmwpe outrigger pads;uhmwpe hold-down bars;uhmw valves;uhmw seals;uhmwpe belly pads;uhmw drag conveyor flights;uhmwpe round bottom flights
en masse flights;custom drag flight;en-mass flat bottom conveyor;uhmw low profile conveyor
uhmw hi-lo industrial duty incline chain conveyor;uhmw pilot round bottom chain conveyor
uhmwpe pillow block bearing and UHMW seals;uhmw split sprockets;uhmw plug switches
uhmw chain slack detectors;uhmw take-up at the head section;uhmwpe conveyor trough
uhmw tail section;uhmw flight paddles;uhmw drag flight conveyor;uhmwpe scraper flight conveyor
uhmwpe side skirts;uhmwpe flights and side guides;uhmwpe polyethylene spacers;uhmwpe slide lagging
uhmwpe hanger bearing;uhmwpe drag flights;uhmwpe bulk material handling;uhmwpe material handing equipments
uhmwpe roller chain and sprockets;uhmw conveyor chains;uhmw conveyor chains and paddles;uhmw level drag conveyors accessories
uhmw hy-flight incline conveyor accessories;uhmwpe ehrsam dracon drag flights;uhmw en masse drag flights;uhmwpe essmueller company
uhmwpe peerless drag flights;uhmwpe jeffrey multi-flow drag flights;uhmw screw conveyor superflow drag flight;uhmwpe thomas conveyor fli-con
uhmw drag flights;uhmwpe drag conveyor paddles;uhmwpe snow blower paddles;uhmw skid plate;
UHMW Plastic Bushings And Plain Bearings
Other related products:
UHMWPE Liner (Xinxing-88 UHMWPE Sheet )
Ceramic filled UHMWPE Sheet
Glass filled UHMWPE Sheet
Xinxing is the largest Group manufacturer of engineering plastics in China. Xinxing's main products include UHMWPE & HDPE sheets,  double colour HDPE sheets and parts, as well as custom machined plastic parts such as, UHMWPE Synthesis of ice, PE hockey shooting board, plastic ice rink barrier, ICE  RINK system, ICE HOKCEY RINK SYSTEM, FLOORBALL RINK, SOCCER REBOUNDER etc. Email: jade@sdxxhg.com
Product Name: nylon axle sleeve UHMW PE bearing UHMW Plastic Bushings