uhmwpe material super glide ice skating rink synthetic ice panel
1. Hard surface, low friction
2. UV Stable
3. Can be used in any climate
4. Will not Warp/ Crack or Distort
5. Water and Chemical Resistant
6. Seamless Finish for Safer Skating
7. Longer service lifetime of not less than 15years
8. Built and Dismantled Quickly
9. Completely recyclable
10. Reduce cost and save water and electricity.
Product Overview
synthetic ice skating rink plastic artificial ice hockey rink
Xinxing ICE Rrink panel adopts 100% pure new UHMWPE material which has more than 4.5million molecular weight .Our uhmwpe ice skating rink are fabricated from the UHMWPE material which has self-lubricating properties that could enhance the rink slick experience .
Advantages :
· Ice skating is possible 365 days a year!
· Indoor and outdoor usage
· suitable for fixed and mobile ice skating rinks due to its simple and quick installation
· Low cost of ownership: no water and electricity are needed
· Simple maintenance
· Long product lifetime of more than 10 years
· Ecologically and environmentally friendly
· Completely recyclable
· Useage with the usual ice skating equipment

Applications:
· Leisure time installations, sport parks and sport centres
· Home training installations :shooting zones, stick handing
· Ice-hockey, speed and figure skating, curling
· Shopping centers
· Sport shops
· Events, fairs, theatres, etc.
· Hotel
· Entertainment and holiday parks.
The properties of synthetic ice rink/artificial ice rinks/ice rink
| | | |
| --- | --- | --- |
| Property | Unit | Value |
| Tensile strength (23°C in air) | MPa | 22 |
| Breaking strength | MPa | 42 |
| Tensile strain at break | % | 600 |
| Ball indentation hardness | N/mm2 | 42 |
| Shore D hardness | -- | 65-70 |
| Abrasion | % | 70-80, steel = 100 |
Photo of ice skating rink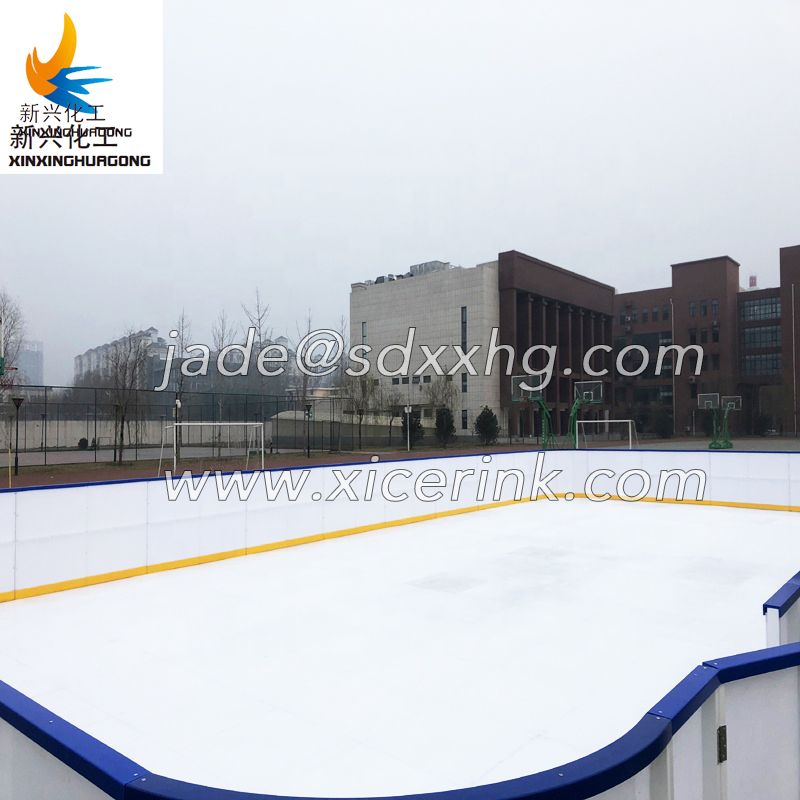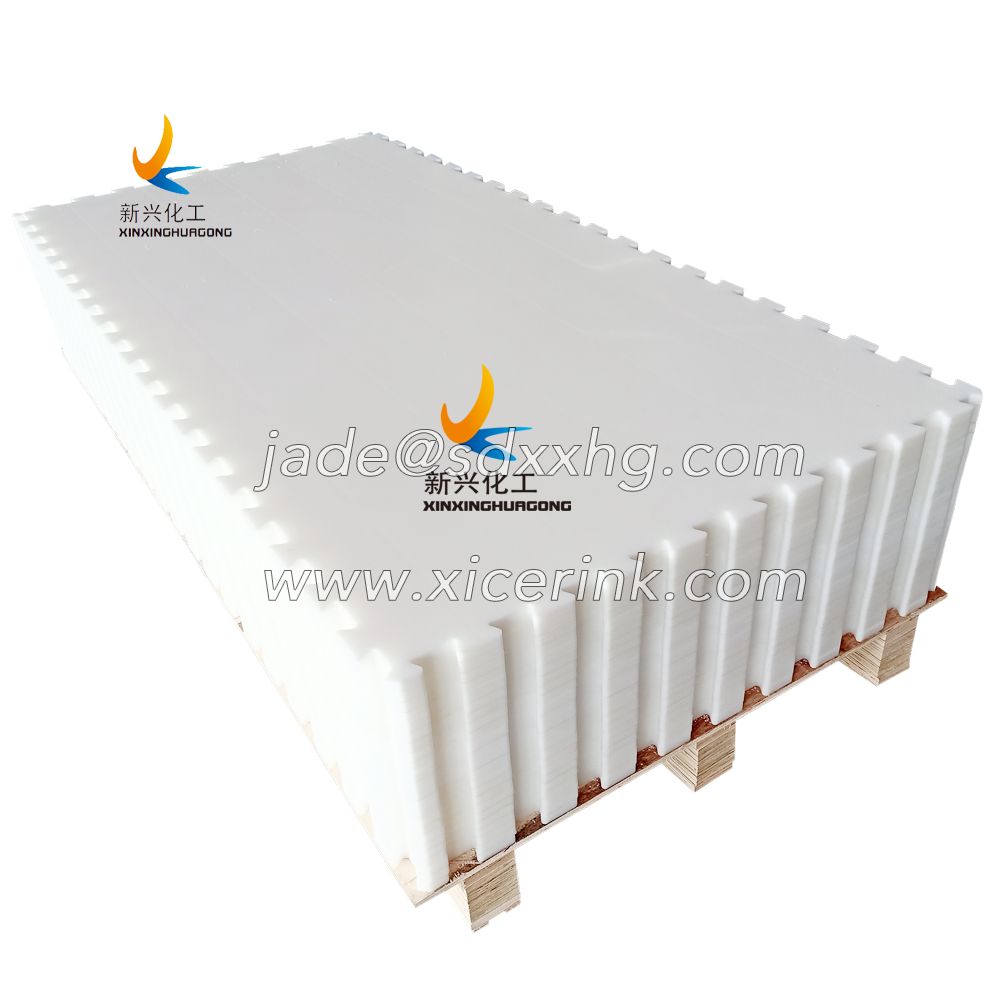 Related products LINKS:
Xinxing is the largest Group manufacturer of engineering plastics in China. Xinxing's main products include UHMWPE & HDPE sheets,  double colour HDPE sheets and parts, as well as custom machined plastic parts such as, UHMWPE Synthesis of ice, PE hockey shooting board, plastic ice rink barrier, ICE  RINK system, ICE HOKCEY RINK SYSTEM, FLOORBALL RINK, SOCCER REBOUNDER etc. Email: jade@sdxxhg.com
Product Name: uhmwpe material super glide ice skating rink synthetic ice panel